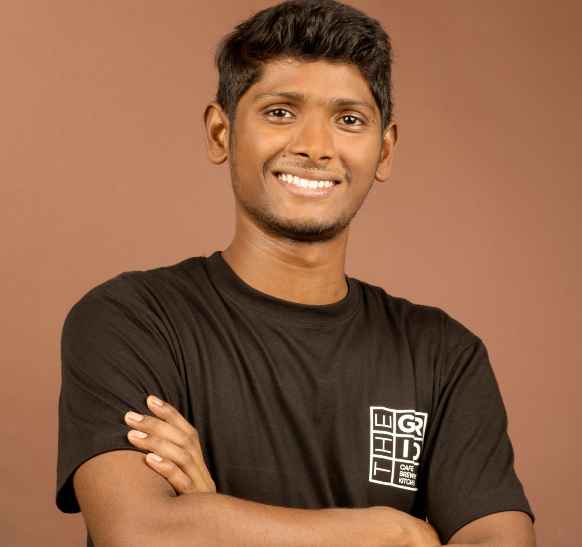 Mr. Suvo Sardar
Mr. Suvo Sardar, our Employee of the Month of June, is a cheerful, young and hard-working human who is passionate about brewing and takes immense pride in his position of Brewery Cellarman at the GRID Brewery. Here is an excerpt of his wonderful experience at The GRID so far.
1. What is your role here?
I am a Brewery cellarman, we ensure that the beers are consistent and available at any given hour.
2. Before working at The GRID, what was the most unusual or interesting job you've ever had?
Before this I was working with a health centre on part-time basis. We ensured that the community had a pest-free life and our unit was pretty successful in keeping the mosquitoes in check. During my tenure there, none in that community contracted any diseases spread through mosquitoes. At the same time I was working with a music group, wherein I was composing and scheduling gigs.
3. How did you first learn about The GRID?
I was introduced by my brother who was already a part and proud of the property. So I visited the place and met the people and felt like I had to be associated to The GRID instantly.
4. How do you balance your career and family?
I am here early in the morning and back home as soon as my shift ends. It is mostly balanced since the work is distributed amongst my colleagues and they are always supportive.
5. How has The GRID helped you in your career development?
The GRID has groomed me in the right direction and support my hobbies too.
6. If you could switch your job with anyone else within this company, whose job would you want?
I like my job because I work with pride and work hard in any place you put me in, so for the above question, I am happy with the current position I am in and one day would wish to climb up the ladder and trust my hard work and nature to take its own course.
7. What are 3 words to describe The GRID?
Great, Unique and Attractive.
8. What do you find the most challenging at The GRID?
It is always challenging, if the procedure is not followed appropriately then the outcome of the beer is different. Hence we have stringent hygiene standards and rock solid protocols to ensure beer consistency.
9. What do you like most about The GRID?
The Team. We are all very friendly and are part of the same family now. We keep pulling pranks on each other and encourage each other to keep the morale high in the brewery. The work atmosphere is comfortable and fun.
10. What has been your favourite memory here at The GRID?
There are too many but to name one. It was sometime in January 2018, when the whole crew went to Eco Park after a hectic day at work. It felt good and it was very relaxing.
11. What have you gained from working here?
I have learnt about brewing and everything related to it.
12. What is on your wish list for the next 5 years ?
Growth for the brewery, the crew and myself. I wish the brewing family stays intact.
13. What is the favourite part about working here?
Working with the brewing team and pulling pranks on each other.
14. What is your proudest moment at The GRID?
The company has trusted me with such a great task of brewing and appreciated me for the amount of hard work I have put in. So, I am happy to know that I was nominated as the employee of the month. I will forever cherish this moment forever along with my brewing team.