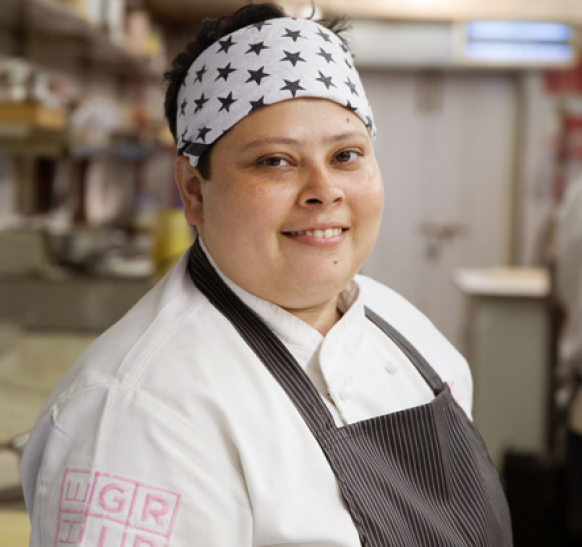 Mrs. Arpita Mallick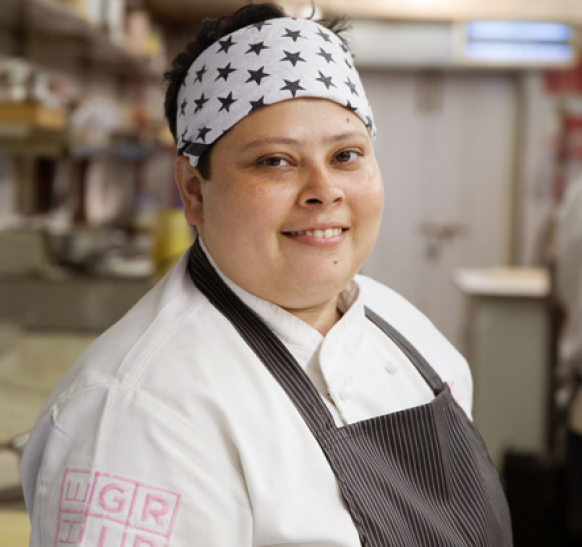 Her catch line is don't mess with me. Ambitious and very focused in work..never take tensions and a great team member in one word.
1. What is your role here?
My role is very simple at here do day to day mise en place, taking care of the hygiene part, help my co-workers, checking the receiving areas and place it in proper area, do requisitions and maintain daily consumptions.
2. Before working at The GRID, what was the most unusual or interesting job you've ever had?
Strange but true, I've been into Bike racing before I joined The GRID.
3. How did you first learn about The GRID?
I heard bout this wonderful place from Chef Anil Shaw and Chef Animesh Dey. Lucky I am that they told me!
4. How do you balance your career at and family?
Well I balance it like a balance sheet! After whole day working, when I get back to home and see my parents everything gets balanced itself. And even the entire team of The GRID is my extended family so its easy for me.
5. How has The GRID helped you in your career development?
Working with my corporate chef gives me great confidence. Chef Chiranjib is our mentor and I'm lucky to have his guidance. He has the Midas touch, any junior chef under his guidance is sure to have a wonderful career.
6. If you could switch your job with anyone else within this company, whose job would you want?
That would definitely be with Chef Chiranjib. I would like to be in his shoes and see how it feels to manage such a huge team and guide them the proper way and keep them motivated at the same time.
7. What are 3 words to describe The GRID?
Three words are very less to describe this wonderful place. I would say gorgeous ambience, innovative concept and delicious food.
8. What do you find the most challenging at The GRID?
The most challenging thing at The GRID is to make Sunday brunch best in Kolkata & make my chef satisfied. We have set the the benchmark to such a level that our guests expect the best from us, so its always a challenge to keep up to their expectations.
9. What do you like most about The GRID?
The huge and proper equipped kitchen is the best part. That is the place where I spend the most of day and I enjoy each and every part of it.
10. What has been your favorite memory here at The GRID?
My favorite memory at The Grid is the grand opening day of The GRID. Felt very proud to see how the City of Joy accepted this place.
11. What have you gained from working here?
I've gained many things from my corporate chef Chiranjib Chatterjee such as how to make the foods look very presentable, cook foods to their perfection and the most important timing. Chef always guides me how to interact with the guests and also take feed back of foods from them. He is an artist and a gem as a person.
12. What is on your wish list for the next 5 years?
I want to become and Executive chef and see myself handling critical situations and providing my own recipes to the guests.
13. What is the favorite part about working here?
My favorite part is the live counter.
14. What is your proudest moment at The GRID?
My proudest moment is when I was selected for the best employee of the month for 2 times. I must say that this company is very employee centric and the way the management works keeps all of us so motivated. All thanks to our director Mr. Gaurav Karnani.